back
Best Baby Sunglasses
Sunglasses are often seen as a fashion accessory rather than for what they are: eye protection. Babies have delicate skin, a weak immune system, and notably, sensitive eyes. To combat this, parents buy sunglasses for their babies. After all, they are just as helpful as a protective accessory for children as they are for adults. But how does one choose the best for their little ones? You are in luck. In this article, we discuss a detailed buying guide and a list of the best baby sunglasses in the UK.


Children, like adults, need vitamin D. That is why parents need to take their children outside now and again. However, going out may expose them to damaging sunlight. Wearing the best baby sunglasses may significantly help protect a toddler's eyes from sun damage, which might otherwise create severe problems.


Sunlight may cause long-term problems in unprotected child eyes, such as macular degeneration and cataracts. Specifically, if you reside in a tropical region of the globe or if your child enjoys playing outside or in the garden, it is essential to protect them from the dreaded UV damage.


Health experts advise getting a pair of sunglass that not only give comfort to your baby's eyes but also shield them from the sun's dangerous UV rays.


Buying Guide: Things To Consider Before Buying Baby Sunglasses


Before pulling the trigger for that pair of shades, our experts recommend going through our list and checking the following factors:


Lenses


Colour
Sunglasses come in different colours, shades and patterns. Some even allow you to customize the looks and change the lens's colour. Fun colours such as pink, blue, orange and green are the most common colours for a pair of sunglasses.
However, our experts warn that these colours may distract your babies. If this is the case, typical grey-tinted lenses are recommended.


Shade
The lenses come in many colours, ranging from a barely-there transparent grey to a virtually black tint. Our experts say that you do not need to worry too much about the shade. The importance of UV protection outweighs the need for lens blackness.


UV Protection and UVA & UVB Sunscreen
Health experts recommend at least 95% protection against UVA and UVA light. But if you find sunglasses with 100% protection, we urge you to get those instead. UV protection is the most important specification you need to check.


Polarization
Wearing a pair of polarized sunglasses minimizes glare. As a result, objects look clearer. Contrary to common belief, polarization does not help with UV protection. So, remember this fact while shopping for your kid's sunglasses. We included several polarized options in our list of the best infant sunglasses.


Safety
Let us be honest for a second; kids are clumsy. They tend to break stuff by dropping or chewing things. Do not underestimate a child's teeth as they are fairly strong. Choose glasses that will not readily break or shatter if dropped, since this might cause them to cut or hurt them.
For optimal safety, we suggest polycarbonate lenses that have been tested and approved by the American National Standards Institute.


Security
You will need sunglasses that remain put on your kid's face. If your child is young, you should get a pair of straps. They could appreciate wearing adult-style sunglasses that hide their ears.


Wraparound
In addition to being clumsy, children are finicky with sunglasses. They will not wear what's not comfortable. If your child always drops their sunglasses, we recommend checking out wraparound sunglasses.
Wraparound versions that go around a kid's head (rather than merely resting on the nose) will keep light out of the eyes and guarantee that the glasses remain in place.


Headbands and Straps
Sunglasses with a headband or band can help prevent your youngster from removing them as soon as they are put on. These make sure that sunglasses won't come loose.


Durability
Choose flexible materials, such as rubber, that can survive being twisted or dropped - this is especially crucial as your baby becomes bigger and more active.


Comfortability
It is also vital to get a pair that your kid likes, otherwise they would not wear them. Look for wraparound designs that do not rest on your child's ears, lightweight fabrics and materials.


Price
Let us be honest. Children often break glasses. Spending a lot of money on sunglasses that will eventually break isn't something you want to do.
Look for a blend of high-quality materials at a reasonable price so that you do not have to spend your college cash on a new pair if they become lost or destroyed.


Best Baby Sunglasses


Roshambo Baby Flexible Polarized Baby Shades
Website: Roshambo Baby
Polarized lenses: Yes
Suitable ages: from birth to 24 months
Available frame colours: 21 different colours including Bueller Black, Kelly Kapowski Pink Glitter, Zack Morris Blue, Goonies Mint (and event colour changing ones)
Available lens colours: Polarized, Blue, Green, Purple, Chrome
Made in Italy, Assembled in the USA
Nearly indestructible
Free from BPA, lead, cadmium phthalate, and latex
Ear adjuster and strap kit sold separately
Available in 5 different sizes


Using the terms baby and sunglasses in the same sentence does not seem like an obvious pairing. Babies tend to put everything in their mouths, and as they get bigger, the concept of sunglasses withstanding rowdy children seems preposterous. Enter Roshambo Baby Sunglasses.


Roshambo Baby has designed polarized sunglasses for newborns that provide 100 per cent UV (A, B, and C) protection with shatter-resistant lenses in a fashionable style. The flexible frame comfortably accommodates any newborn or toddler while still sturdy enough to survive through numerous children's wear.
Fortunately, this pair of Roshambo sunglasses is designed with your infant or toddler in mind. Not only can it shield their eyes from harmful rays, but it also is nearly indestructible. Your child can bend it all they want and it will not break. Additionally, it comes with lenses that are shatter-proof and flexible enough to accommodate teething infants.


For individuals who need prescription glasses for their children, these sunglasses are also prescription compatible, eliminating the need for costly frames!


---
Babiators Baby, Toddler & Kids Aviator Sunglasses
Website: Babiators Sunglasses
Polarized lenses: Yes
Suitable ages: from birth to 2 years, from 3 to 5 years
Available frame colours: Black
Available lens colours: Black
UV400 lenses
BPA-free


Curiosity comes naturally to infants, toddlers, and children. They want to see the world through their own eyes and experience everything. Unfortunately, this might result in eye damage if their sensitive eyes are not adequately protected. You do not want your kid to experience what Gallileo experienced when he looked at the sun through a telescope.


Since kids have narrower nasal bridges than adults, Babiators created these aviator sunglasses, particularly for babies' faces. As a result, this will stay on better whether your kid is playing outside or performing any activity in which they may lose their balance and fall over.


To prevent them from breaking when dropped or trodden on by an adult or another kid, Babiators Original Baby & Toddler Navigator Sunglasses are constructed entirely of plastic with rubber frames. Not to mention, this pair is also BPA-free.


Lastly, the lenses feature a UV coating that shields your baby's eyes from dangerous UV radiation while still letting them see without glare!
---
Baby Banz Adventurer Sunglasses
Website: Banz Worlds
Polarized lenses: No
Suitable ages: from 2 to 24 months
Available frame colours: Aqua, Black, Blue, Pink, Pink Camo, Pink Gingham, Red Dot, Silver Leaf
Available lens colours: Black
UV protection
Flexible and breathable Neoprene elastic strap


Every parent understands the significance of shielding their kid from the sun's rays. However, it may be complex to locate high-quality sunglasses that fit children properly and remain on their little faces. We all know how difficult it can be to locate nice sunglasses for your kids, but we also know how crucial it is to shield them from the sun's damaging rays.


Baby BanZ has developed a collection of high-quality sunglasses exclusively for newborns and toddlers.


These BanZ sunglasses are hard to beat to protect the baby's eyes from the sun. These are made in Australia and include an adjustable head strap and rubber frames that make them easy to wear and remain in place.


They provide 100 per cent UVA and UVB protection, and each pair comes with a carrying bag and cleaning cloth to preserve them in excellent condition.
For added comfort, these trendy sunglasses are made of lightweight materials. Moreover, they include soft silicone construction around the nose and ears and adjustable temples built into each pair.


Baby Banz Adventurer Sunglasses are shatter-proof and designed for newborns aged zero to two, and if they break during the first year, the business will replace them for free. Finally, they come in many bright hues and are adorable.


---
Real Shades Explorer Sunglasses For Babies


Website: Real Shades Sunglasses
Polarized lenses: Yes
Suitable ages: from ages 0 and up
Available frame colours: Aqua/Pink, Black/Red, Blue/Light Blue, Cherry Pink/ Lime, Navy/Orange
Available lens colours: Black
100% UVA and UVB Protection
Unbreakable Polycarbonate Lenses


With small kids, it can get complicated when shielding their eyes from the sun, even if it is essential. The issue with standard children's sunglasses is that they are either overly wide and bulky or constructed of poor materials that shatter quickly.
As a result, they are less than ideal as an accessory for little toddlers that like running about outdoors. It might be complex to keep sunglasses on kids' heads, but a strap that keeps them securely on their heads can assist.


Parents love the Explorer Sunglasses from Real Shades since they are practically unbreakable and fit beautifully. The wraparound style is available in many colours and sizes for newborns, toddlers, and older children.


The strap is soft and flexible, so you can obtain a decent fit, and these glasses will not break no matter how you bend or twist them. The Explorer sunglasses provide 100 per cent UVA/UVB protection, and the wraparound design prevents harmful rays from entering from the sides.


These glasses come in a variety of colours, styles, and sizes, so you are sure to discover something just right for your kid!


---
Kushies Kid Size Dupont Rubber Sunglasses
Website: Kushies Online
Polarized lenses: No
Suitable ages: Toddler or newborn
Available frame colours: Black, Turquoise, White, Blue, Red, Pink
Available lens colours: Black
100% UVA and UVB Protection
Unbreakable 100% Dupont rubber


Keep your kid's eyes safe from damaging UV radiation while also keeping them looking cool with these sunglasses from Kushies. We know we should protect our kid's eyes from the sun. However, it is hard to look for a pair that suit their little faces and won't slide off or break.


Kushies Kid Size Sunglasses are composed of flexible Dupont rubber that stretches to suit your kid's face comfortably. Furthermore, these sunglasses also come in two sizes for infants to toddlers, so you are sure to find a pair that fits right!


Kushies Kid Size Dupont Rubber Sunglasses feature polycarbonate lenses with scratch-resistant coatings and 100 per cent UVA/UVB protection for your safety and peace of mind, no matter what the weather. These fashionable sunglasses will protect your eyes while also making them feel cool.


---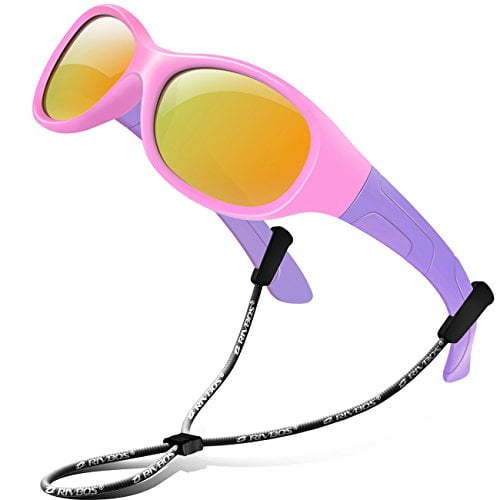 Rivbos Rubber Kids Polarized Sunglasses
Polarized lenses: Yes
Suitable ages: Toddler or newborn
Available frame colours: 18 different colours including Sky Blue, Black, Green, Navy Blue
Available lens colours: Black, Green, Mirror, Ice Blue
Rubber frame and plastic lenses
100% UV protection


RIVBOS Rubber Kids Polarized Sunglasses are fairly priced eyewear alternatives that go above and beyond. We appreciate that they filter 100% of UV rays as well as dangerous blue light from screens, which most sunglasses do not.
The rubber frame is composed of soft silicone and extends to suit youngsters aged three to ten. It sports a design that is both functional and stylish, which is impressive for a pair of sunglasses that cost so little.


These children's polarized sunglasses use RIVBOS UV 400 lenses to protect against almost 100 per cent of UVA and UVB rays, as well as the blue light emitted by smartphones, tablets, and other devices. These sunglasses are lightweight, flexible, comfortable, and long-lasting thanks to their soft silicone frame.
The rubber frames of these sunglasses may be bent or stretched without breaking, and they conform to the wearer's face for a better fit and greater comfort. Ribvos also provides an eyewear rope that helps prevent the sunglasses from being lost.


This pair of children's UV sunglasses have a sleek yet comfortable ergonomic design and 20 distinct colour variations, making it a trendy pick for kids. Its tough lenses are scratch-resistant, smudge-proof, and drop-resistant.


Rivbos Rubber Kids Polarized Sunglasses have lenses that decrease glare, allowing your youngster to see their surroundings in real-life high definition, providing a sharper perspective great for sports and touring. These are fantastic child fishing sunglasses for your son or daughter!


Frequently Asked Questions (FAQs)


Is Sunshine Harmful To A Baby's Eyes?
Newborns, being babies, have sensitive organs in general, let alone the eyes, since they are still growing their organs to get completely used to the world outside a mother's womb. Exposure to sunshine regularly may cause redness and soreness in a baby's eyes.


If your infant exposes to sunlight for extended periods, they may be more sensitive to more severe disorders such as retinal or corneal damage. That is the reason, while your infant is outside, it is critical to shield his or her eyes using sunglasses.


Is Sunshine Beneficial To Babies?
Sunlight is useful to both newborns and adults. The problem, however, is to ensure that the exposure does not last too long or is too focused. Mild sunshine, particularly in the morning, may be advantageous to a baby's general health.


Final Verdict
When looking for sunglasses for your kid, it is paramount that you do not sacrifice elegance for sun protection and vice versa. Our list proves that it is possible to have both. There are several solutions available on the market that meet the criteria for cuteness, durability, and protection.
A pair of Roshambo sunglasses, which claim to be almost unbreakable, is a solid choice if you're worried about breaking. But, in the end, the original Babiators are unbeatable. We enjoy the UV rating, the interesting colour options, and the fact that they can handle the inevitable wear and tear!