back
Best Baby Play Mat
As every parent knows, one of the first things you do when you learn you are having a child is preparing to baby-proof the home. Whether it's stair gates or floor mats, every surface should be soft and safe for your child.
Years ago, you may have considered colourful and mismatched things that didn't necessarily complement your home's design. But today, a slew of considerably cooler baby brands on the market that are as functional and safe as they are visually appealing. In this article, our baby experts bring you the best baby play mats in the UK.


Many playmats that are currently available have piqued our interest. Some solely intend for infants, ideally to keep them secure before they begin to explore too much.


All of the mats we examined have good looks, and we believe you'd be happy to flaunt them. We also wanted them to be soft underfoot, a reasonable size, and preferably expandable as our baby develops and starts to explore.


Buying Guide: Best Baby Play Mat in the UK
There are many factors to consider before purchasing the best baby play mat for your little one. Here is a list of things that every parent should consider in buying the best baby play mat in the UK:


Free from Toxins or Chemicals
Almost all manufacturers are aware that parents are very concerned about their children's physical cleanliness and health. As a result, they only use fabrics that are safe for newborns' sensitive skin and won't pose any health risks.


Safety and Security of the Parts
When it comes to our little ones, every material and little component are crucial. They should be fixed and sturdy so that when your babies lean on them, they will not break. That is why it is always a pain for parents to find the perfect playmat. Pay great attention to every part and accessory that the playmat comes with to avoid unwanted accidents with your cutie pie.


There should be NO Small Items
Make sure that these toys do not include any little bits or parts. Your baby could swallow and choke on these tiny pieces when you are not looking. Manufacturers also follow certain guidelines of not producing toys that a baby may put in his or her mouth and swallow.


Easily Cleanable
One of the most crucial components of a play mat or gym is the ease of cleaning. Babies make a lot of mess, and it is your job as a parent to clean up after them. Make sure that the playmat you buy has easily cleanable materials. Being machine washable is a plus factor.


10 Best Baby Play Mats in the UK
With all the baby play mats in the UK, our editors tested and collected the 10 best baby play mats.
Tiny Love Gymini Kick And Play Baby Play Mat


Website: Tiny Love
Suitable Age: 0 months up
Machine washable: Yes
Physical Dimensions: 106 x 45 x 115 centimetres
Available colours: Black and White, Boho Chic, Into the Forest, Meadow Days, Meadow Days Sunny Day, Tiny Farm, Tiny Princess Tales


Tiny Love's Gymini play mat is extra big appropriate from birth to 12 months. It is a popular option for energetic infants who like playing with toys, chewing teethers, and being aware of their surroundings. This interactive play mat includes a baby-activated kick that plays music and lights.
Your baby's mind will surely be simulated with the Tiny Love Gymini's. It boasts vibrant colours and distinct textures in its fabrics. Moreover, it features fun hanging play toys wherever your baby looks. Tiny Love added a wind chime that has a gentle sound that your baby will love.
With the Tiny Love Gymini, you have the choice to have it closed or open border. Even when fully set up, the Tiny Love Gymini has a larger footprint than other playmats on the market. That is something to keep in mind if storage and space are limited.
The electrical light and music toy trigger by touch, and with repetition, infants learn that they can activate the lights and music by kicking the Kick and Play response pad.
Some Mumsnetters report that their infants adored this toy until they sit up unsupported. Thus, making it an incredible buy.


---
Loyeah Baby Foam Interlocking Puzzle Play Mat


Suitable Age: 0 months up
Materials: Thick Soft EVA Foam
Physical Dimensions: 30 x 30 x 1 cm
Available colours: Grey / White
Includes 16 pieces
Passed European Standard EN71
Non-slip design


Made of soft, safe, and long-lasting EVA foam, the Loyeah Baby play mat meets the most recent European safety requirements EN71. Indoor and outdoor play is possible with this playmat.


By providing a soft and cushioned surface, you can keep your baby safe from knocks and bangs as they play. Each tile has a plush yet effective non-slip grip to avoid falls and slips.


Due to its interlocking nature, this floor play mat allows you to assemble it in any form or size you desire. The size of each foam play mat is about 30 x 30 x 1 cm.
Floor baby playmats are made from waterproof and washable material, making them simple to clean. Loyeah baby foam playmats are easy to construct, dismantle, transport, and store.
The EVA play mats give a protective layer to the playroom, living room, and even the outdoor floor, making it a pleasant area for the baby to lie, sit, or crawl in a playpen, nursery centre, or balcony. Additionally, adults may use it as a yoga mat as well.


---
Lovevery Play Gym Activity Gym And Play Mat


Website: Lovevery Europe
Suitable Age: 0 months up
Materials: FSC sustainably harvested wood, polyester materials, 100% organic cotton, plastic and silicone components
Machine washable: Yes
Physical Dimensions: 60.7 x 127 x 119.4 centimetres
Language in the play guide includes British English


Developed by child development professionals, the Lovevery Play Gym provides everything parents and newborns need for a complete year of play. Individual developmental zones allow to foster growth and avoid overstimulation in children under the age of five.


In addition to the play mat, there are removable cards with pictures ranging from black and white to faces and mirrors for older kids. There are designs for babies as well.


Furthermore, our parent testers like its two-minute setup time. This playmat includes a play guide that parents can use to engage their children in age-appropriate activities as they play.


Although it is expensive, many parents say it is unlike any other play mat and is well worth the money for the amount of time it will use.


---
Fisher-Price 3-in-1 Musical Rainforest Infant Activity Gym


Website: Mattel Shop
Suitable Age: 0 months up
Materials: Nylon and polyester type material
Machine washable: Yes
Physical Dimensions: ‎6.35 x 53.34 x 40.64 cm
Includes five (5) repositionable activity toys
Includes two (2) overhead arches


The Fisher-Price 3-in-1 offers all the basic and fun activities for half the price of many luxury baby gyms. Your baby can choose a wide range of activities with this play gym. With these activities, your little ones improve their core strength and hand-eye coordination (as well as other handful skills).


As soon as it is not in use, this Fisher-Price playmat can fold in half, can be machine-washed, and then easily removed and stored away. One of our parent testers praised this feature because their baby always drops some dribbles or vomits on the mat.


Fisher-Price also produces low-cost toys that can connect to the arches, which is a huge advantage since it extends the life of the gym by a large amount.


---
Bright Starts 5-in-1 Your Way Ball Play Activity Gym & Ball Pit


Website: Bright Starts by Kids2
Suitable Age: 0 months up
Materials: Plastic and fabric type material
Machine washable: Yes
Physical Dimensions: ‎72.6 x 113 x 53.54 cm
Available Colours: Green, Rainbow Tropics, Totally Tropical
Includes 40 balls with carrying case
20+ minutes of music
Includes seven (7) take-along toys


If your baby isn't sleeping while you're trying to have a coffee with your moms' group, we believe the Bright Starts 5-in-1 Ball Play Activity Gym is for you.
The 48-inch large mat and play gym includes movable walls to keep active infants safe during playing and tummy time.


The addition of 35 colourful balls magically changes the baby gym into a bouncing ball pit, substantially extending the lifetime of the Bright Starts 5-in-1 and offering for some social interaction when the time comes.


This Bright Start play gym comes with fun toys including a plush elephant, a monkey, and an electric toucan that will entertain your baby for nearly 20 minutes with happy songs.


Perhaps most importantly, there is a character-themed bag to assist your infant with inserting and removing toys from their containers.


---
Kinderkraft 4SMART Contrasting Sensory Mat


Website: Kinderkraft UK
Suitable Age: 0 months up
Materials: Soft polyester and safe plastic material
Physical Dimensions: ‎126 x 46.5 cm
Available Colours: Multicolor
10-year warranty
100-days free return policy


The Kinderkraft 4SMART Contrasting Sensory Mat is a spacious playmat offering a 126 cm by 112 cm play area. It comes in a variety of colours and patterns that can elevate your precious one's cognitive abilities. Further to this, most of its parts are machine-washable.


Package inclusions are also plenty generous with its fabric-covered arch and four separate sensory zones surrounding the centre mat. Kinderkraft included 12 cognitive cards, which can be stowed away in a clear pocket on the side of the mat. In addition to these, your little one will enjoy a range of detachable toys, including reflections, rattling balls, plush doughnuts, and rustling toys.


This activity mat is jam-packed with elements to keep your baby occupied '" and to keep them engaged and stimulated as they grow older and more inquisitive as they grow older and more curious.


---
Infantino Grow-With-Me Playtime Teepee Gym


Website: Infantino UK
Suitable Age: From newborn to 3 years
Materials: Plush fabric material
Machine washable: Yes
Physical Dimensions: ‎86.4 x 86.4 x 112 cm
Four (4) play positions
Mirrored mobile with four hanging toys
Includes musical sound effects in elephant toy


Baby mats and activity centres generally have a short lifespan, but Infantino came up with this multi-purpose gym that transforms into a play teepee for young children.


There are four eye-catching hanging toys, including a squeezy singing elephant, as well as a massive mirrored mobile, in the base package.


The gym may turn into a crawling tunnel as your baby starts to move. When they turn three years old, you can turn it into a full-blown teepee that you can use for storytime.


Our editors recommend the Infantino Grow-With-Me Teepee for parents who want to give their growing kids memorable childhood memories without breaking the bank.


---
Foldable Baby Play Mat By BOSONER


Website: Bosoner Store
Suitable Age: From newborn to 3 years
Materials: Non-toxic XPE foam
Physical Dimensions: 1.5 x 175 x 195 cm
Available Colours: Bear and Sika Deer, Little Bear and Little Rabbit, Water Spraying Elephant
Thickness variants: 1 cm, 1.5 cm
Non-slip design
Foldable and waterproof


The Bosoner Foldable Baby Playmat has a broad range of applications. You can use it for either indoor or outdoor activities like picnics. When your baby is soundly asleep, it can also function as your yoga mat. This foldable playmat is an excellent choice for any play space, whether at home or in public.


You can gift the Bosoner foldable playmat to anyone who is a soon-to-be parent as it has a high-quality storage bag with a strap. It is an ideal present for a birthday, a birthday party, a baby shower, a holiday, or a baby shower!
Due to its foldable form, the folding playmat is simple to store and can easily convert to family size.


The Bosoner foldable playmat features fascinating patterns of both sides. So you can switch it up now and then. With the distinct animal and colour patterns of this baby crawling mat, it can boost your child's creativity and intellectual growth when playing on a playmat.


Bosoner's newborn playmats are completely waterproof and easy to clean. You can wipe spills away with a moist towel and mild detergent, and they will be as good as new.


The surface of the baby rug has grids with numbers and letters that are anti-slip and may be a fantastic early education tool.


Bosoner used a high-density XPE foam which is easy on the baby while they twist and turn around. Moreover, they used vegetable oil ink in printing this playmat's charming designs. This foldable playmat is BPA-free, non-toxic, non-fading and has no chemical odour. Thus, making it safe for infants and creating an ideal play environment for them.


---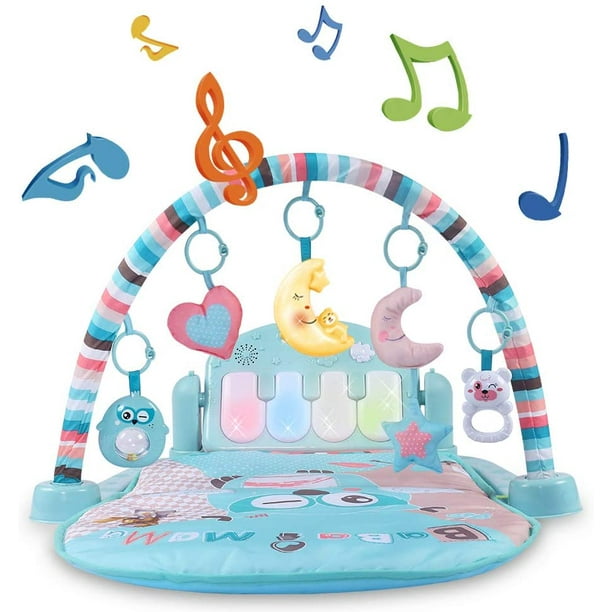 TEMI Baby Gyms and Activity Play Mat with Music and Light


Suitable Age: From 1 to 3 years
Materials: ABS plastic and cotton
Physical Dimensions: 88.9 x 58.42 x 45.72 cm
Four (4) different play modes
Includes musical piano keyboard with 3 modes
BPA-free


If your child is looking for visual and auditory stimulation, the music and lights of this TEMI baby gym will captivate them. This lively, entertaining activity centre has a colourful pastel hue and plenty of engagement for the infant.


The music is activated by large and light-up buttons, providing sensory stimulation. The activity gym comes with five removable, trendy toys, including a rattled owl and a soft heart that squeaks when held, making it an excellent option for keeping your baby engaged while they learn and play.


It is a winner because it is so well thought out, both in terms of design and the variety of ways to play. But there have been some noteworthy complaints in the evaluations regarding a lack of robustness in the quality. Overall, it is a great buy.


---
Skip Hop Playspot Interlocking Foam Floor Tiles Baby Play Mat


Website: Skip Hop
Suitable Age: From 10 months up
Materials: EVA Foam
Physical Dimensions: 177.8 x 142 cm
Available Colours: Grey / Cream, Blue Ombre, Grey / Peach
Includes 40 triangles and 32 edge pieces


If you are looking for versatile foam floor tiles, look no further than the Skip Hop Playspot. This collection includes 40 triangles and 32 edge pieces. When assembled, the Skip Hop Playspot provides a spacious 177.8 x 142 cm paly area.
These soft mats are ideal for infants aged 10 months and above and make an excellent accent to a living room, playroom, or nursery. Parents like how simple they are to clean, how low-maintenance they are, and how well they complement most house designs.


Infant and toddler playmats are made from thick foam tile to provide a comfortable surface for crawling and playing. The 40 foam interlocking pieces and 32 foam edge tiles allow you to make and customize your floor play mats.
The oversized foam floor tiles provide a big play mat surface that is ideal for tummy time, crawling, first steps, and beyond.


The Skip Hop Playspot boasts a comfortable design that complements your home's decor. In addition, it is waterproof for easy upkeep. Wipe with baby wipes to clean. Lastly, it is excellent for baby development as it promotes colour and shape recognition.


---
Final Verdict
If you want a playmat that will endure a long time and promote your child's growth, our editors strongly recommend the Lovevery Play Gym. Unlike other play mats, it is simple to interchange and exchange portions of the playmat dependent on age and stage, making it a durable and engaging piece of baby equipment.